Optimized for low power use, the Wireless "V3" Vibration Sensors use easily replaceable batteries and KCF Technologies' proprietary wireless protocol that transmits the full vibration spectrum over the air on a nearly-continuous basis.
The system provides continuous remote monitoring of key performance indicators to track the operating health of equipment.
Optimized for long battery life
Full-time series data sets up to 5 times per minute
Expandable to thousands of nodes per system
Achieve 3.6x more asset coverage with the only comprehensive platform to ingest Oil, MCSA, Pressure, Vibration, Legacy IEPE sensors, and Ultrasound into
one software platform.
Reliable Monitoring
Vibration Sensor Nodes provide health monitoring in the most hard-to-reach, rugged locations. Each node communicates via a direct wireless link to a Base Station gateway, from which the data is imported into SMARTdiagnostics software for viewing and analysis.
Flexible Configuration
Machine monitoring systems using the V3 sensor are highly configurable and scalable. A system can have thousands of sensor points, each of which can be configured to transmit data on a user-selected frequency, and unique indicators can be implemented to warn users of potential machine health issues.
Cost-Effective
V3 sensors are easily installed without the downtime, expense, and labor costs of old-fashioned, hard-wired sensors. Simply place the sensors where you need them and within minutes they'll start transmitting data.
The SMARTdiagnostics IoT HUB is the next generation of full asset health solutions. IoT Hub was designed and built by KCF Technologies to handle the most complex asset monitoring needs, including triggered collections, multi-functional sensor ports, and the ability to withstand higher temperatures with external power sourcing, including an optional wired power solution.
Multiple power options available
Capable of triggered and simultaneous collections
Compatible with multiple sensor types, including third-party sensors
High Temperature
Power is supplied to the IoT HUB which can be positioned away from extreme environments. This allows sensors to be placed on high-temperature machines without compromising battery power or temperature limits.
Triggered Machines
In triggered machines, such as robots, the IoT HUB can be configured to activate sensors in response to unique movement patterns. This allows for more focused data collection as opposed to continuous monitoring.
Shielded Machines
Assets in shielded areas, such as those covered by metal or screening, pose an issue where wireless sensors struggle to connect to the network. The IoT HUB provides a wired solution for monitoring these machines.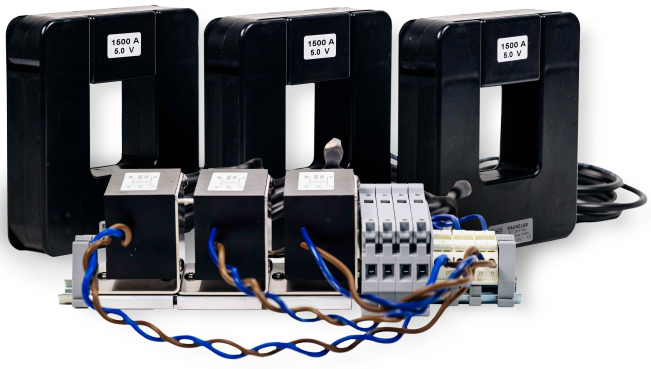 Motor Current Signature Analysis (MCSA)
The addition of Motor Current Signature Analysis (MCSA) to KCF's comprehensive machine health platform combines MCSA's robust motor-electrical diagnostic capabilities with the high-fidelity continuous monitoring, ease of installation, and focus on root cause eradication that is central to KCF's solutions—pairing this technology with vibration monitoring results in a comprehensive asset health solution crafted for your most critical electric motors.
Now your IoT Hub can monitor nearly any common process signal, adding significant utility to your condition monitoring arsenal. The analog adapter measures voltage or current signals, allowing you to trend and alert these values in real time, just like traditional vibration data. In addition, analytics models (in development) will enable enhanced diagnostics and monitoring tools for special applications.
Applications
Pressure monitoring
Temperature monitoring
Energy consumption
Motor current analysis
Speed monitoring
Object detection
Oil quality analysis
Ultrasonic monitoring
Requirements
AC-powered Hub or +24V external power through Hub Trigger/Power port
Features
Provides power for most types of transducers
Software-selectable voltage
Configurable sampling frequency
Analog-to-digital converter
Internal temperature sensor
Chemical-resistant polycarbonate alloy case
Bring your existing or add new integrated electronics piezo-electric (IEPE) accelerometers or dynamic pressure sensors to SMARTdiagnostics. The IEPE Adapter allows the IoT Hub to power and collect data from these commonly used transducers that may already be installed on your equipment. Take advantage of 24/7 vibration data from these high-performance devices.
The IEPE adapter can monitor a single-axis accelerometer/transducer and provide up to 8 kHz measurement bandwidth, nearly twice the frequency range of the current IoT Hub wired accelerometer (SD-WVS-1) for early onset detection of potential machine failures.
Requirements
AC-powered Hub or +24V external power through Hub Trigger/Power port
Features
Integrated 4 mA constant-current source
Configurable sampling frequency
4096-sample memory
Analog-to-digital converter
Integrated auxiliary analog input
Transducer short- and open-circuit detection
Offered with pigtail leads
The Base Station v4 is the next-generation SMARTdiagnostics gateway. Featuring a robust mesh network, BSv4 offers greater density coverage and premium data reliability. Ample internal storage ensures your data is safe, even if the connection to SMARTdiagnostics is lost temporarily.
The Base Station V4 is the nerve center of any industrial SMARTdiagnostics Machine Health Platform installation, allowing effective predictive maintenance for industrial equipment.
Helps reduce installation costs
Mesh network enables greater density coverage and unparalleled data reliability, perfect for remote environments
Ruggedized construction suitable for even the harshest conditions
Reduce Recurring Costs
By choosing ethernet, you will eliminate the need to pay recurring high cellular fees.
Easy Set up & Installation
Mesh wireless networks only require one port for every five BSv4, making set-up simple.
Ample Data Storage
The BSv4 can store close to a full year of data, so if your connection is interrupted, you won't lose your valuable information.
Ultrasonic Sensor
Optical Tachometer
Inductive Tachometer
Pressure
Sensor
Oil Humidity Sensor
Why KCF
$4B

customer savings
75k

hours of prevented downtime
24/7

hours of monitoring
Find the Right Hardware to Tackle Your Machine Health Challenges
Our industry experts can recommend the right hardware to power your machine health optimization solution. Choosing the right hardware to monitor your assets is based on a variety of factors including the environment, size of equipment, desired insights, and more.