How
SMART

diagnostics

Works
Right Data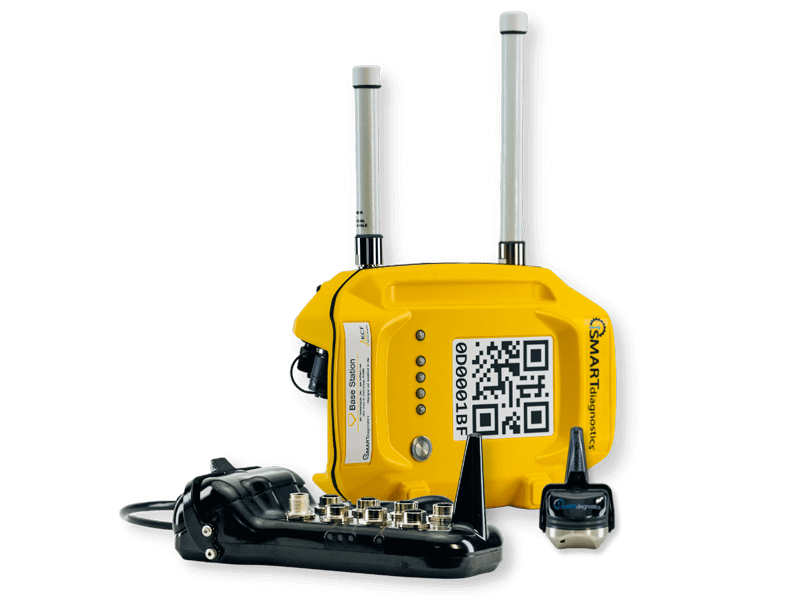 SMARTdiagnostics ingests data from a range of sensors (including third-party sensors) that measure inputs like vibration, temperature, motor current, and more. However, even the most comprehensive asset monitoring hardware can't tell the entire story of machine health.
SMARTdiagnostics also takes in human and process data such as maintenance operations, repairs, and inspections. This type of information often gets lost in handwritten notes or emails, or is kept in a completely separate system from hardware input data.
Right Analysis
By combining data from a range of sensor types and the people and processes that influence asset behavior in your plant, SMARTdiagnostics creates a holistic view of machine health for accurate root cause analysis.
SMARTdiagnostics was built to be as easy to use as it is powerful, and accessible to many different types of users. Intelligent data visualizations, customizable by job function, put actionable machine health information — from basic alarms to long-term optimization recommendations — in front of the right people at the right time.
Right Action
Users can automate actions to remedy problems, such as generating work orders via your CMMS or even changing machine settings on-the-fly with PLC integration. SMARTdiagnostics also tracks the results of maintenance actions, letting you know how effective they really are. If a machine's performance does not improve, SMARTdiagnostics will find out why and prescribe further corrective action.
Features like dynamic health scores, risk modelling, edge case isolation, and support for cross-system digital workflows help manufacturers from the shop floor to the boardroom make smarter, better decisions about how to run and optimize their operations.
SMART

diagnostics

Features
SMARTdiagnostics is easy-to-use and infinitely scalable. It brings powerful machine health insights and actions to plants of all sizes, whether you have a handful of monitoring points or thousands of sensors deployed. SMARTdiagnostics is web-based, so it's easy to access from anywhere and updates are applied automatically for maximum continuous value. You no longer need to be a vibration analyst or reliability engineer to understand and act upon indicators of machine health.
Workbench
Workbench is the heart of SMARTdiagnostics, containing all of the tools you need to catch and diagnose machine health faults. It provides clear visualizations of the current health of your monitored equipment and ranks assets for quick prioritization of maintenance activities.
Dashboards
Spend less time analyzing and more time acting with user-specific visualizations that anyone in the shop can take action on. Custom dashboards let you monitor KPIs for plants, divisions, lines, and shifts, driving continuous improvement across all operations.
Desk
Desk automatically creates CMMS work orders that are populated with critical machine health information. Track progress and confirm the outcome of your maintenance activities, all within one platform. Closing the reliability loop creates accountability and transparency across your entire plant.
Motor Current Signature Analysis (MCSA)
The addition of Motor Current Signature Analysis (MCSA) to KCF's comprehensive machine health platform combines MCSA's robust motor-electrical diagnostic capabilities with the high-fidelity continuous monitoring, ease of installation, and focus on root cause eradication that is central to KCF's solutions—pairing this technology with vibration monitoring results in a comprehensive asset health solution crafted for your most critical electric motors.
Connectors and Integrations
SMARTdiagnostics is capable of bidirectional communication with a number of platforms, including CMMS platforms like Maximo, PLCs, data historians, and more. You can automate critical machine health actions like work order generation, stitching your digital workflows across systems to create one continuous, traceable thread.
SMARTdiagnostics connectors bridge the gap between hardware, software, and third parties.  Our SMARTdiagnostics engineers can rise to nearly any integration or customization challenge.
Available connectors include:
PI-OPC
API
Data Pipeline
SMARTconnect
How We Built
SMART
diagnostics
There's a lot that goes into building a machine health optimization platform this advanced. SMARTdiagnostics was developed using real asset data and real results. Our customers typically see a 10X return on investment when using our full machine health optimization platform, which includes the SMARTdiagnostics software and SENTRYsolutions machine health optimization services.
600
terabytes of data processed
60,000,000,000
machine health measurements
$2.2B
documented customer savings
See

SMART

diagnostics

in Action
The best way to understand the machine health optimization power of SMARTdiagnostics is to see it for yourself. Our team of engineers can demonstrate features and answer any questions you have about the hardware and software components of the platform. Take control of your plant's health and request a demo today.